Have you noticed how your youngster responds to hot and cold foods or drinks? Most kids will say that their teeth "hurt," but if it happens while eating or drinking anything hot or cold, it's probably dental sensitivity. Although it is typical for kids to complain about their teeth being sensitive to heat and cold, their pediatric dentist should know about their concerns.
REASONS FOR CHILDREN'S TOOTH SENSITIVITY
Baby teeth, also known as primary teeth, contain thinner enamel than permanent ones. With a more delicate covering of enamel, the teeth's nerve endings are less protected from high temperatures. Conversely, some teeth, such as molars, may grow with "softer" enamel and become more sensitive to temperature changes than other teeth. The amount of enamel on the teeth determines how sensitive they are to temperature changes; therefore, maintaining good dental hygiene is essential. Children frequently suffer dental discomfort for the following reasons:
improper brushing techniques, such as brushing too hard or insufficiently
dental decay exposing nerves in cavities
fractured or cracked tooth: nerves are visible
Vacant space: exposed nerves
Upper teeth discomfort as a result of sinus pressure from an illness
WHEN ARE TEETH MORE LIKELY TO BE SENSITIVE?
The sensitivity is more likely to be felt when eating or drinking anything cold since the chilly air will contact your teeth; however, it can also occur with hot meals or beverages. Some people react negatively to sugary or acidic foods and drinks. Sometimes the pain is more severer than at other times, and it might come and go.
IS THERE ANYTHING I SHOULD AVOID GIVING MY CHILD IF THEY HAVE SENSITIVE TEETH?
Avoiding foods like ice cream and other hot, cold, sweet, or acidic beverages may help you prevent developing sensitivity. Use warm water to clean your child's teeth if they experience sensitivity when using cold water from the faucet. Regular tooth brushing is crucial since failing to do so might exacerbate the issue.
WHAT CAN I DO AT HOME TO TAKE CARE OF MY CHILD'S SENSITIVE TEETH?
Several toothpaste products available claim to reduce the discomfort of sensitive teeth. Use fluoride toothpaste to clean your child's teeth twice daily. Rub it on the delicate parts as well. The time these kinds of toothpaste take to start working might range from a few days to several weeks. Our dental staff recommends which toothpaste is best for your kid in a particular situation.
OUR BEST ADVICE FOR CONTROLLING TEETH SENSITIVITY
Use toothpaste designed particularly for sensitive teeth. Before permitting a kid under 12 to use a desensitizing product, it is vital to see a dentist. Try using flavorless toothpaste, or gently wipe your child's sensitive teeth with a fresh towel or gauze.
Try a fluoride-containing mouthwash, provided it is age-appropriate for your child if cavities are the root of their dental sensitivity. However, it must be obtained from a dentist if you want to buy fluoride gel at home.
Check that the toothbrush is gentle; kids shouldn't use medium or hard bristles. Cleaning is effective when soft. Additionally, smaller kids especially want soft clothing. If your child has sensitive teeth, they should use gentle care.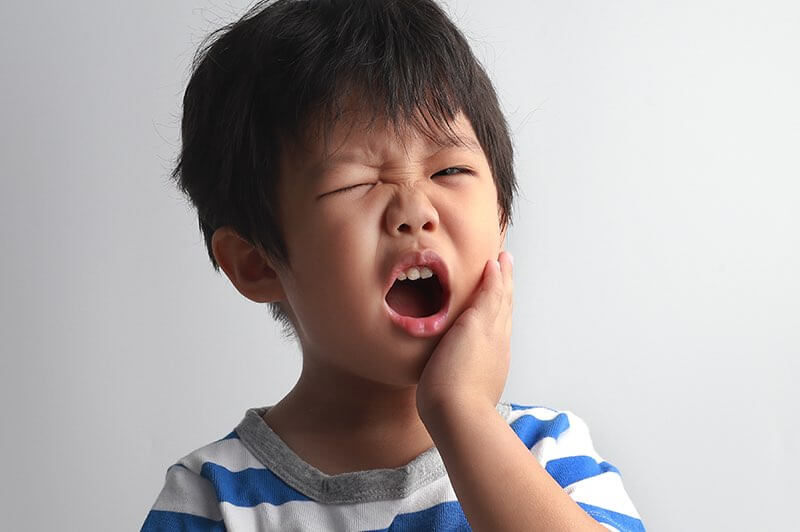 TREATING MY CHILD'S TOOTH SENSITIVITY
Talking to your child's pediatric dentist is the first step in assisting them with their hot-and-cold-sensitive teeth. The dentist can identify the origin of the sensitivity and how to continue with treatment. The dental professional will check the child's teeth for decay or cavities. Tooth decay could always occur, even with proper dental hygiene. Filling all cavities in the mouth is the simplest way to treat sensitivity. That is why it's essential to visit the dentist twice a year: to enable dentists to identify tooth decay early on before it creates issues. While cavities are simpler to notice, some require a more comprehensive examination.
Get in touch with little kids dentistry if you have more inquiries concerning your child's tooth sensitivity.
To start a conversation, get in touch with us at our offices in  Los Angeles, South Gate
Our Instagram Page – Click here